Sound and Art Festival Baerwalde
Exhibition curated by Antje Liemann
2013
Baerwalde, Moritzburg (DE)
10 – 12 May 2013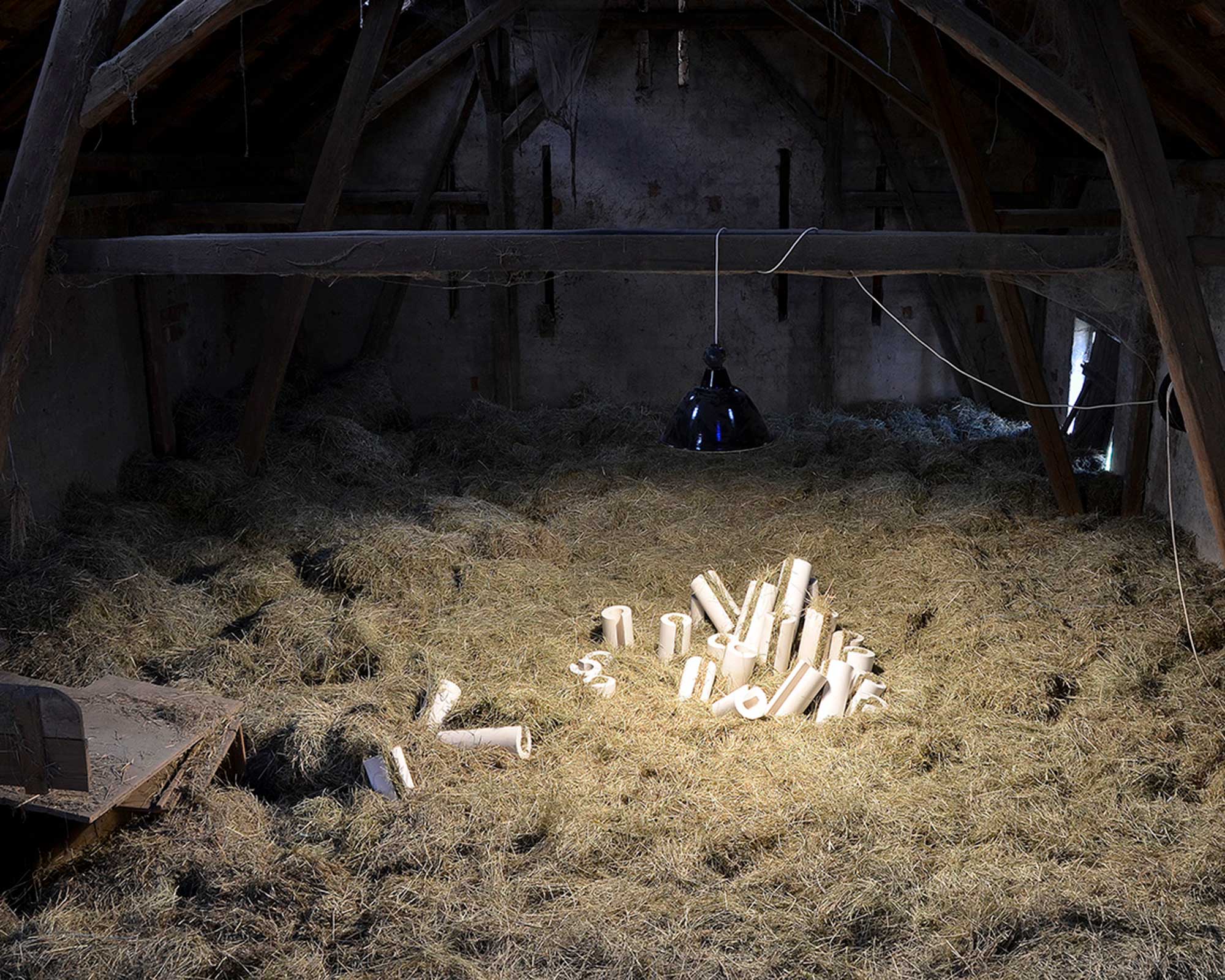 Baerwalde, a village situated on the outskirts of the Moritzburger pond area near Dresden, invites artists to create site-specific installations. Some of the most unusual places for contemporary art are located in this small village. The artists transform farms and simple, dark stables and garages in locations for painting and art without changing or hiding their original purpose. The farmers use their barns and stables during the exhibition like every other day.

Dana Berg's work reflects the socialization of a generation that grew up in the 1970s in East Germany.
In the farm-hand's chamber of the Lorenzhof trophies of bird's beaks are presented. The seemingly surreal trophies fit into the room, as if they had been already always there.
However, it is a fake authenticity, just as the farm-hand's chamber which today can be rented as a holiday room.
A work of the mathematician Axel Voigt and his collegues of the Institute of Scientific Calculation of the University of Technology of Dresden.
Axel Voigt deals in his work with principles of development as they can be observed in the nature.
Several such processes of development can be described mathematically, for example, the decomposition of binary mixture by a Cahn-Hilliard Equation. This is used here to generate a structure which takes up the thickness and external form of an eggshell, however, this translates into a complicated soft structure inside.

The loss of reality and the creation of an own world is in the centre of the work of the Argentine artist Ayelen Coccoz.
Thus, works are created in which, for example, the memory of history teaching about Europe are processed into relief-like pictures.
The group portrait of the Peasant family is the exact three-dimensional replica of a photo of August Sander. Sander - a sociologist with the camera who wanted to capture the German essence.
A parallelism of fiction and reality which refers to the whole exhibition and the microsociety of Baerwalde.
Curator: Antje Liemann

Participating artists:

Dana Berg,
Ayelen Coccoz
Masahiko Kato
Stephanie Lüning
Christian Lorenz
Joachim Merbitz
Michiko Nakatani
Claudia Tronicke
Axel Voigt


Photos:
Christian Lorenz and Julia Gaisbacher