Such Stuff as Worlds Are Made On
Exhibition co-curated by Antje Liemann, Margerita Pulè, Letta Shtohryn
2022
Kornelia Remø Klokk
On Mythopoesis and Constructed Realities
2015 – 2021 / video, textile costumes, tapestry / installation view

Venue: Spazju Kreattiv, Valletta (Malta)
21 January – 20 February 2022
Reflecting on human timescales, alongside the deep time of the universe, this project explores possible inclusive futures via world-building and speculative art practices, while consciously avoiding the replication of colonial models.
Ultimately, the project questions what kinds of new worlds can be created and what kind of rules these worlds will have to follow.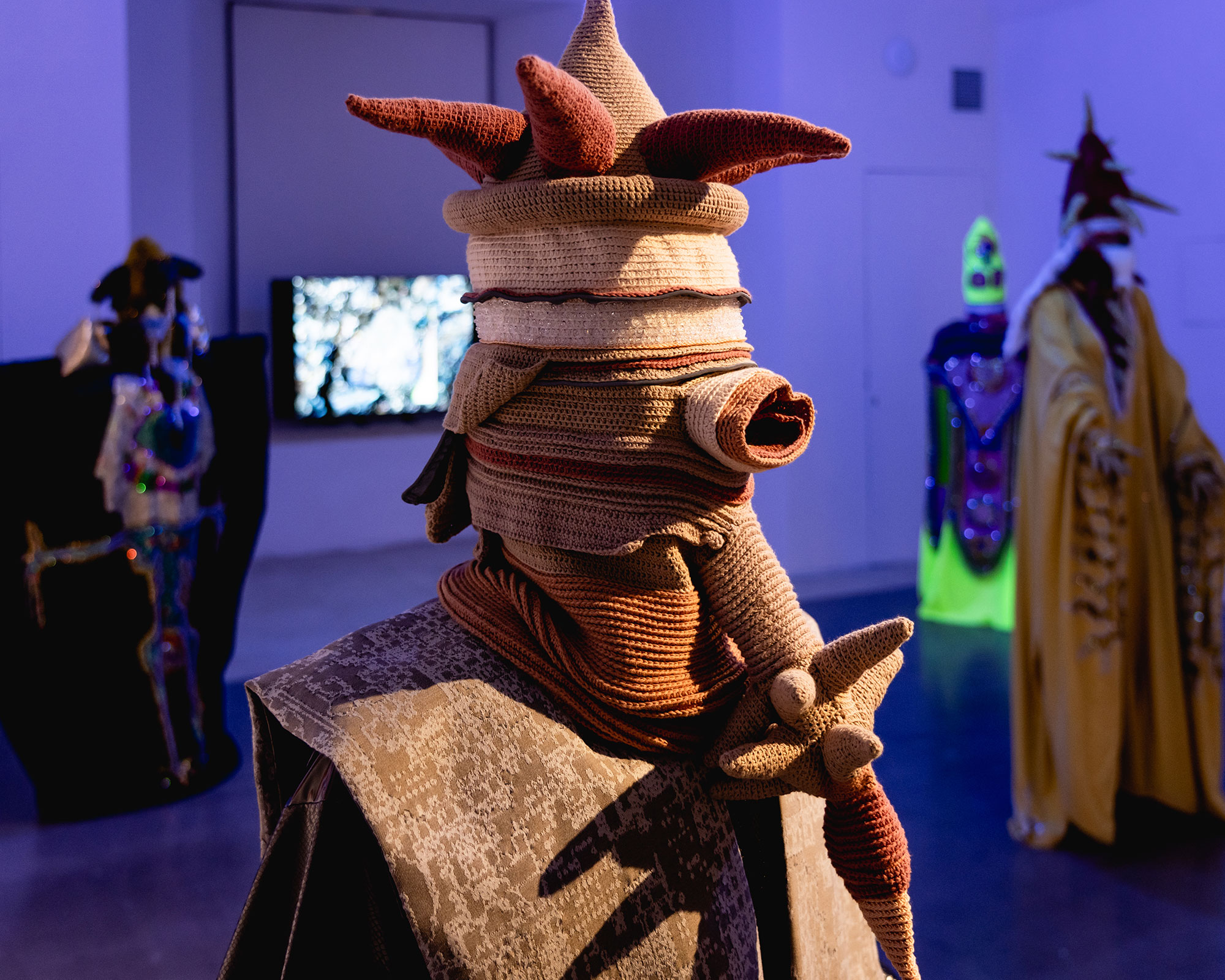 Kornelia Remø Klokk
On Mythopoesis and Constructed Realities
Kornelia Remø Klokk

On Mythopoesis and Constructed Realities
Kornelia Remø Klokk
Babel on Babalon / 2018 / video
Informed by Donna Haraway's Speculative Fabulations this exhibition looks towards cosmologies and ecosystems for inspirations, answers, and prophecies. Exploring practices that are speculative rather than empirically scientific, it reflects on the limits of human knowledge of our own planet, alongside human-kind's increasing desire to extend itself to neighbouring planets and planetary systems.
Jenna Sutela
nimiia cétiï
2018 / HD video, sound / installation view
In very recent years on human time-scales, we have witnessed multiple moonlandings, frequent image flow from Mars and the neo-colonial ambitions of a small number of billionaires. This project shifts the perspective towards non-privileged humans, nonhumans, biomes and Martian life forms in order to reflect on space colonisation and planetary time.
Letta Shtohryn
Life on mars might not want to be found (extended edition)
2021 / prints on aluminium and vinyl, video, augmented reality, virtual reality / installation view
Letta Shtohryn
video
Letta Shtohryn
installation view

Looking back through millennia, the project imagines the births and deaths of planets, the creation of the cosmos, the universe, and our home the earth. Looking forward, the project speculates on how other worlds are being explored or created, and questions if space really is humankind's final frontier.


Antje Liemann New Constellations

2022 / Prints


New and existing works, and the interaction between them, seek a deeper understanding of the origins of humankind in cosmological, geological and evolutionary terms that can serve to develop long-term evolutionary perspectives. Is humankind struggling in its capacity to deal with the existential crises it is facing? What can we learn from other life forms that have lived through similar extinction-threatening events? And will future generations be born into a habitable sustainable world?




Bettina Hutschek
Atlantean Aphorisms
2014 / series of drawings, pen on paper
Bettina Hutschek

Atlantean Aphorisms

installation view with on-site drawings
Bettina Hutschek
HUBERTUS
2014 / HD video (12'30") / series of drawings

Dafne

The Dream Lounge (I hear my dreams)

2021 / sound installation / installation view
Rakel Vella, Jamie Barbara, Emanuel Polidano, Jacob Saliba
Sounds in Space
2022 / wood, metal, concrete, visual projection, sound / installation view
Rakel Vella, Jamie Barbara, Emanuel Polidano, Jacob Saliba
Sounds in Space
Rakel Vella, Jamie Barbara, Emanuel Polidano, Jacob Saliba
Sounds in Space
Tabita Rezaire
Mamelles Ancestrales
2019 / video projection, 12 stones (45'45") / installation view
Tabita Rezaire
Mamelles Ancestrales



Exhibition co-curated by
Antje Liemann, Margerita Pulè, Letta Shtohryn
Participating artists
Anna Dumitriu & Alex May
Dafne
Antje Liemann
Bettina Hutschek
Jenna Sutela
Letta Shtohryn
Rakel Vella
Tabita Rezaire
Kornela Remø Klokk
Maja Renn
Press
Such Stuff as Worlds are Made On
, Think Magazine, published 9 February 2022
Such Stuff As Worlds Are Made On exhibition at Spazju Kreattiv
, Uni Malta, published 25 January 2022
Catalogue
suchstuffasworldsaremadeon.pdf
Photos
Audrey Rose Mizzi for Spazju Kreattiv & Olha Ruccya & Letta Shtohryn
Supported by
Arts Council Malta - Project Support Scheme
Embassy of Germany in Malta, Valletta